Composite decking has really come a long way in recent times and is becoming an increasingly popular choice of decking material .As a Deck Builder for Melbourne's homes and businesses we have noticed the quality of available products have dramatically improved. Likewise the Trex composite decking prices are dropping to make them accessible for many people.
In choosing Leisure Decking Melbourne as your composite decking builders, you'll have the reassurance of knowing that we've got vast and varied experience in a wide range of materials and composite decking designs.
What is Composite Decking?
Composite decking is man-made decking that is a low-maintenance alternative to natural timber. Usually made from a mix of recycled plastics, wood fibres, and glue, composite decking is also environmentally friendly and designed to last a very long time.
Melbourne's Leading Composite Decking Installers
Today, there is a huge range of composite decking brands for you to choose from. Each type of board has very specific requirements for installation.
We've designed and installed countless composite timber decking melbourne and we're proud to be accredited, or preferred, composite deck builders in Melbourne for major brands including:
Trex (TrexPro), Millboard, Poliwood, Deckorators, Outdure, Modwood, WoodEvo and more.
Through our close relationships with major suppliers we are able to offer fantastic quality composite decks at highly competitive prices – making them a truly affordable option for our clients.
So, whatever your budget, design style, or preference of composite decking brands, we've got the knowledge, experience and range of choices to make your dream composite deck a reality.
Be sure to check out some of our greatest designs in our composite decking gallery and client testimonials on Google and Facebook.
Get a Free Quote for Your Composite Deck in Melbourne
If you're in Melbourne and considering composite decking, give Stephen a call on 0408 565 561.
Stephen knows all there is to know about composite decking and he will be thrilled to guide you through your options. Call today to arrange a time for Stephen to visit your site and provide you with a free quote and all the advice you'll need for your composite decking build.
Composite Decking Installation
Leisure Decking provide free quotes in Melbourne for composite decking projects of all shapes and sizes. We will visit your home or business to provide a comprehensive site inspection, provide samples from quality composite decking brands, and exchange decking design ideas. Together, we will come up with a design for your composite deck that will suit the space, and provide you with the best place to spend your time and entertain your friends and family.
Top 10 Benefits of Composite Decking
1: Low Maintenance
Spend less time maintaining your deck and more time relaxing and entertaining on it!
Maintaining your composite decking is simple. Just clean it with soap and water, or a high pressure cleaner, and your deck will be as good as new.
2: Composite Decking Lasts Longer
Composite decking is extremely durable. It's high density nature offers amazing resistance to impact and general wear. Built to survive the harshest of conditions, composite decking boards won't warp or bend. They also come with long warranties that range from 10 to 30 years!
3: Composite Decking Offers Superior Weather Resistance
Melbourne serves up some pretty challenging weather conditions that your new deck is going to be exposed to. Extremes with both heat and rain can dramatically reduce the lifespan of natural timber decking.
Composite decks are suitable for temperatures ranging from-40°C to 60°C. They offer high UV resistance to maintain colour stability. So if you're in Melbourne and considering composite decking for your project, you can rest assured that your new deck will look amazing for decades to come!
4: Composite Decks Look & Feel Like Natural Wood
In recent years we have seen an ever-growing range of composite decking choices. Now you can build a solid, low maintenance deck that looks just like natural timber, is perfectly in-keeping with the style of your home, but without any of the maintenance headaches!
5: Barefoot Friendly
Anti-clip and anti-cracking – high quality composite decking feels amazing underfoot. It's soft, like a new pair of shoes, and free of nasty splinters!
6: Environmentally Sustainable
There's been a great deal of controversy about the use of Merbau and other hard woods in building decks. On one hand, we love the look and feel of natural timber decking boards. But sustainability is becoming a greater concern for many of us.
In contrast, most composite decking boards are made primarily of recycled and waste materials. Like plastic, sawdust and reclaimed timber. Therefore, composite decking is a fantastic choice for the environmentally conscious.
7: Superior Stain Resistance
Unlike natural timber, composite decking is not porous and offers a high degree of stain, mould and mildew resistance. So with composite decking you won't have to worry about red wine getting spilled on your lovely deck at your next BBQ!
8: Composite Decking Doesn't Bleed
In choosing composite decking, you don't need to be concerned about the boards bleeding onto other surfaces. Bleeding of timber decking boards is a natural process where the tannin's leech from the timber. This bleeding can stain surrounding materials. Because composite decking doesn't bleed, it's an ideal choice if your new deck is close to rendered buildings, or lightly coloured pavers, for example.
9: Termite Resistance
With a high resistance to moisture and made from recycled materials, including plastic, composite decks offer greater protection from termites and other pests than natural timber.
10: Fast Installation
The team at Leisure Decking absolutely love working with wood. But it can take considerably longer to build decks from natural products. There is always going to be variations in natural timber. Consequently, it can be more time consuming to work with. In contrast – factory made and quality controlled composite decking is substantially faster to install. So we can have your composite deck built and ready to enjoy in a fraction of the time!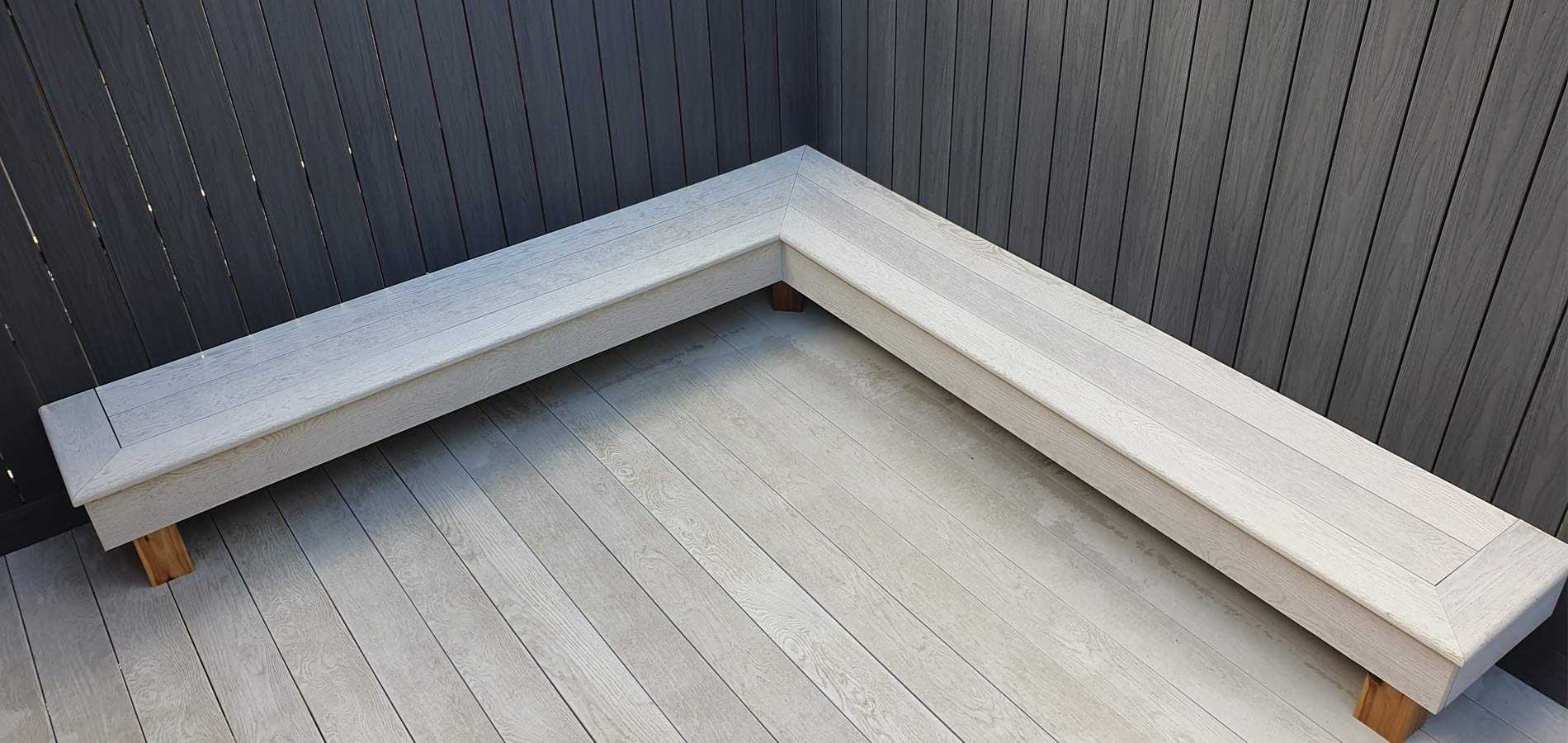 COMPOSITE DECKING
GET THE LOOK THAT LASTS
Composite Decking

Melbourne